MARKETPLACE &
E-COMMERCE INTEGRATION
GET YOUR E-COMMERCE ORDERS OUT
FAST WITH QUICK SEND
E-COMMERCE ITEM COLLECTION AND DELIVERY
Are you a marketplace seller looking for quick and easy item collection and delivery to service your customers? Look no further! We know you are rushed off your feet preparing and sending out orders so let us lighten the load with Quick Send – a delivery solution designed specifically for e-commerce sellers.
We can link your DHL Parcel UK account with 9 of the most popular e-commerce websites, including eBay, Etsy, and Amazon. When your account is linked, we can retrieve all of your sold items and import your recipient's delivery details straight into our booking form. By streamlining our booking process for e-commerce sellers, we can save you valuable time which you can put back into your business.
Utilise our booking form for eBay courier collection, a Shopify courier or Etsy delivery, among many other marketplace platforms.
---
What e-commerce platforms can we link with?
We can link with some of the most popular e-commerce platforms to provide item collection and delivery to your customers, including:
---
Upload a CSV of your orders
If you aren't using one of the above platforms to sell your goods, you can download our handy CSV template. Simply fill in the template and upload to the DHL Parcel UK website. We will then create multiple bookings for you based on the information you provide - all you need to do is check you are happy and confirm.
---
How does it work?
By linking your account, you give DHL Parcel UK permission to import items from your marketplace account. Rest assured, we will not receive any further personal or financial information and you can unlink at any time. Once you've linked your account, this is what will happen when a customer places an order:
Step 1: Customer places an order
Step 2: We'll import the delivery details straight into our booking form
Step 3: You'll receive a notification, letting you know that there are unsent items in your basket
Step 4: Review the booking form - you can amend if necessary
Step 5: Once you are happy, click 'Send'
---
Benefits of linking your account
Quick Send can save you valuable admin time on item collection and delivery which you can use for other important tasks. With all of your e-commerce orders in one place, it's easy to keep track of all your orders and what you are spending on delivery.
Save time
Save time when sending orders - simply book in one click.

All orders in one place
If you use multiple platforms then you'll be able to see all of your orders in one place.

Download invoices
Download invoices and statements for all orders, across multiple platforms.
---
Who can use Quick Send?
Anyone who is selling on one of the above platforms can link their e-commerce account to DHL Parcel UK. It's a completely free value service and there are no minimum order quantities, so you don't need to be a power seller on any marketplace platform to benefit from this service.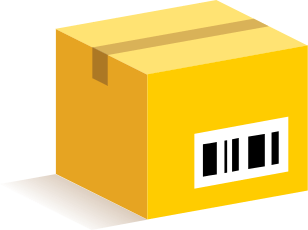 ---
Your business can save time and money
Integrating your e-commerce platform is one of many ways you can save your business time and money in regard to item collection and delivery. At DHL Parcel UK, we are committed to making sure it is quick and affordable for our small businesses to send parcels to their customers:

Pre-pay and save
You can save time booking deliveries by using our pre-pay service, and we'll give you money back when you add funds.

Avoid post office queues
Don't struggle taking multiple parcels to the post office - we'll collect your parcel from your home or work address.
Drop-off your parcel
Opt to drop off your parcel at one of our 3,500 DHL Parcel UK ServicePoints. Shops are open from 8am until late.