USEFUL POSTING &
PACKAGING GUIDES
ENSURING YOUR PARCEL ARRIVES
SAFELY IS OUR TOP PRIORITY
Packaging your parcel for safe delivery
We know how important your parcel is to both you and your recipient. That's why our aim is to always deliver the items entrusted to us in good time and in the same condition as they were sent.
Your parcels will be handled at many stages throughout its journey and may pass through fully automated sorters and conveyor systems so it's important you package your parcels correctly to avoid any damages during transit.
As the sender, it's your responsibility to make sure your parcel is addressed and labelled correctly, adequate packaging is used and that the contents are safe to be sent by post. So, before you have your parcel collected or your drop off at a DHL Parcel UK ServicePoint or depot, we recommend you take a look at our postage and packaging guides to help you prepare your parcels for delivery.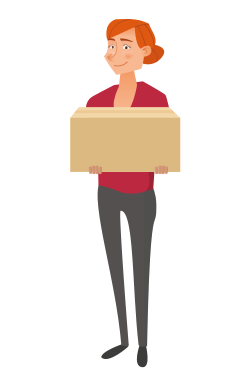 Packaging guides
From posting advice to packaging hints and tips - whether your parcel is staying in the UK or being sent internationally, there are a number of things you can do to make certain it stays intact, arrives safely and in good time.
---
How to protect items in transit

Whether your recipient lives in the next town or on the other side of the world, there are steps you can take to ensure your parcel arrives safely and in a good condition.

Waterproofing and packaging your parcel

Ensuring your parcel is delivered safely is our top priority. Help us to do this by following the quick and easy steps in our waterproofing and packaging guide.

Packaging hacks - mailing made easier

Are you a regular sender? If so, postage and packaging costs can add up. Learn how you can reduce your postage and packaging costs and save time with our mailing hacks.

How to weigh and measure a parcel

When placing your booking, you'll need to provide the weight (in kg) and measurements (in cm). We show you how to weigh and measure your parcel - even if you don't have scales or a ruler.

How to package items for international delivery

If your parcel is bound for an international destination, we recommend taking extra precautions when packing your parcel. See our international packaging guide for more information.

A retailer's guide to cutting postage and packaging costs

As a small business, we understand it's important to keep packaging and postage costs as low as possible so they don't cut into your profit margins. See how you can reduce the cost of sending a parcel.

Sending fragile items by courier

It can be daunting sending fragile items in the post but with the right packing materials, it needn't be. Learn how to pack fragile items securely to prevent any breakages.

Prohibited items - UK

There are some items which aren't allowed through the DHL Parcel UK network. This includes anything which is valuable, breakable or restricted. If you are at all unsure of whether your item is permitted, check our prohibited items list.

Prohibited items - International

In addition to our prohibited items list, there are some country-specific restrictions for some destinations. For more information, read our international prohibited items list.
---