Linking your accounts
It's quick and easy to link your Etsy account with DHL Parcel UK. Simply click the link below and login to your Etsy account. You'll then be given instructions on how to link.
By linking your account, you give DHL Parcel UK permission to import items from your Etsy account to aid with the Etsy courier service. Rest assured, we will not receive any further personal or financial information and you can unlink at any time.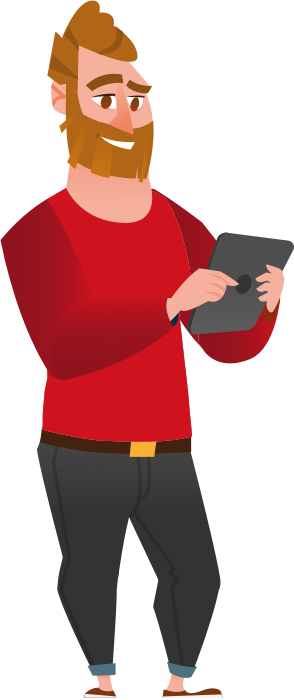 ---
What is Etsy?
Etsy is similar to eBay, in that it is a marketplace platform where online sellers can sell their goods. Unlike eBay, Etsy is geared towards creative sellers who are selling their homemade wares or vintage items. Whether you are selling artisan chocolate or handcrafted candles, then Etsy is the place to do it.
Traditionally, these types of items were sold at art fairs and farmers markets but when Etsy started in 2005, it opened up a whole new opportunity for creative sellers to sell their products online and reach a far wider audience. Today, Etsy helps almost 2 million shops reach 16 million customers around the world. With such an expansive range of customers, Etsy parcel tracking is of paramount importance – and that's something you can do when you link with DHL Parcel UK.
It is quick and easy to create an Etsy shop and as of October 2019, it's completely free to set-up. An easy-to-use wizard takes you through every step of the Etsy account creation process and you can even customise your page with your business' logo and branding. Once you are ready to sell items, there is a small fee to list items as well as a transaction fee and payment processing fee when an item has been sold.
---
ETSY NEXT DAY DELIVERY FROM £2.79*
When you sell on Etsy, reputation is everything and getting your Etsy orders out quickly is a good way of building a positive seller rating. When you send a parcel within the UK, we can offer Etsy next day delivery, meaning it will arrive on the next working day, from just £2.79* .
When listing an item on Etsy, you can chose choose whether you want to offer UK delivery only or UK and International delivery. If you choose to offer international delivery with your Etsy orders - we can help you send Etsy orders to 160 countries worldwide with our Etsy courier service.
---
BENEFITS OF LINKING YOUR ETSY ACCOUNT
Sending parcels out can be time-consuming and inconvenient, but it doesn't have to be. By integrating your Etsy account with DHL Parcel UK, you can save valuable admin time which you can use for doing what you love – being creative.
When you integrate your Etsy account with DHL Parcel UK, we automatically input all of the delivery details related to your Etsy orders into our booking form. All you need to do is click 'Send'.

Send orders in one click
When you sell an item, we automatically input the delivery details into our booking form - all you need to do is click 'Send'.

Improve your Etsy seller rating
Providing a fast and efficient service is a great way of building your seller rating. Get your Etsy orders out in no time by linking your account.

Link with more than one marketplace
Providing a fast and efficient service is a great way of building your seller rating. Get your Etsy orders out in no time by linking your account.
---
LINK WITH MULTIPLE CHANNELS
We understand that some sellers use more than one e-commerce platform to sell their goods, and that's why we've made it possible to link your DHL Parcel UK account with multiple channels.
When you sell an item on a platform which is linked with your DHL Parcel UK, we'll import the delivery details straight into our booking form so when you are linked with multiple channels, you'll have full visibility of all unsent orders. To link another account, link on the platform you use below:
---
UPLOAD A CSV OF YOUR ODERS
Alternatively, if you aren't using one of the above platforms to sell your goods, you can download our CSV template. Simply fill in the template and upload to the DHL Parcel UK website. We will then create multiple bookings for you based on the information you provide - all you need to do is check you are happy and confirm.
---
Many ways to save
The amount you charge for postage can be make or break, with customers often stating this is the most important factor in their decision-making process. With many sellers offering low or no postage at all, you need to keep the cost as low as possible in order to remain competitive.
We offer our senders a range of discounts and savings when using our Etsy courier or Etsy next-day delivery, to help bring down the cost of sending a parcel. Here's three ways you can save money on postage costs: