There's many reasons your recipient might need to send a parcel back to you. Maybe you sold an item of clothing on eBay and it's the wrong size or you lent your favourite book to a friend and you would like it back after they've read it. Whatever your reason for needing a parcel returned to you, it is quick and easy to book on the DHL Parcel UK website.
---
Create a reverse label
You can get any parcel sent to a UK address returned back to you through DHL Parcel UK. All you need to do is create a reverse label on the DHL Parcel UK website. This can be done in the Account section. Simply click 'View all orders' and select the order you would like to generate a reverse label for. Finally, click the 'Generate reverse label' button.
The order you originally created will be reversed. For example, if you dropped off the parcel at a DHL Parcel UK ServicePoint and it was delivered to the recipient's home, the reverse order will be for home collection and ServicePoint delivery. Don't worry, these details aren't fixed – just click 'Amend' to select a different service.
Once you have booked and paid for your delivery, a PDF of the label will be generated. Save this to your computer and send to your recipient. They can then affix the new label to the parcel.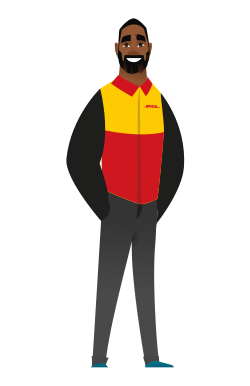 ---
How does it work
Step 1: Go into Account section and click 'Generate Returns Label'
Step 2: Choose which order you would like to create a returns label for
Step 3: We'll automatically fill in our booking form with all of the details of the original booking but in reverse
Step 4: Click 'Amend' to make any changes or if you are happy click 'Send'
Step 5: Pay for the parcel delivery
Step 6: Email the label to your recipient
Step 7: Recipient prints the label off and attaches to the parcel
Step 8: Parcel is collected from recipient's home or dropped off at a DHL Parcel UK ServicePoint or depot
---
Tracking your parcel
Once your parcel has been collected by a DHL Parcel UK driver, it will be delivered back to you on the next working day.
You will be sent a new tracking number for this order. Make sure you use this number to track your parcel and not the number issued previously.
You can visit our live online tracker to see the whereabouts your parcel is. We'll also send regular notifications to you and the person sending the parcel back about the status of the delivery.
---
Packaging the return
Ideally, your recipient should use the same box to return your item back to you as this will conform to the dimensions given in the original order. When packaging the item, they should make sure the original label is completely covered by the new reverse label.
If the original box is damaged, we recommend using a new box to ensure your item is protected. Your recipient will just need to make sure it's roughly the same size and weight as the original.
---
Send, Collect and Return
We have 3,500 DHL Parcel UK ServicePoints across the UK where senders and recipients can send, collect and return parcels. Our ServicePoints are conveniently located in corner shops which are open from 8am until late so you can pick up at a time which is convenient for you.

Send
You can drop off your parcel at a DHL Parcel UK ServicePoint and save money on your parcel delivery.

Collect
If your recipient isn't going to be home at the time of the delivery, they can opt to collect their parcel from a ServicePoint.

Return
It's simple to return a parcel too. Generate a reverse label in the account section and send to your recipient.