Linking your accounts
Speed up sending orders today by linking your Magento account with DHL Parcel UK. It only takes 5 minutes to do and will save you lots of valuable admin time in the future. To link your accounts, simply click on the button below and login to your Magento account. Then just follow the instructions on how to link.
When you link your Magento account with DHL Parcel UK, we'll only be able to access information which is relevant to the booking and will not be able to view any other personal or financial information about you or your recipient. You can opt to unlink at any time.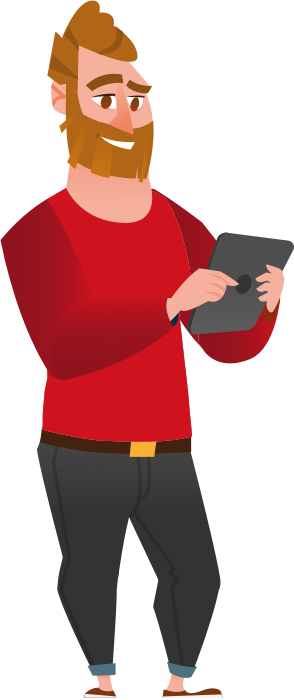 ---
What is Magento?
Magento is a leading e-commerce platform. Last year alone, the company handled an impressive $100 billion in gross merchandise volume.
Is the Magento the right platform for your e-commerce business? If you receive a high number of orders every day, then Magento may be the perfect solution for your business. Magento is able to handle a large number of requests and is completely scalable, meaning your business is unlikely to outgrow this platform any time soon.
It offers a huge range of out-of-the-box features which tackle some of the biggest concerns for an e-commerce business, including site design, SEO and security. For any needs which are more unique to your business, it can also seamlessly integrate with third party apps.
It's perhaps unsurprising that many big retailers (from Barbour to Brewdog) use Magento to host their e-commerce websites and it's not just big companies, many smaller companies are turning to Magento to help them address their e-commerce needs too.
---
Why link your Magento account?
Running an e-commerce business can be time-consuming. When you are producing your product, marketing your business, managing your website and staying on top of finances, it doesn't leave much time for sending parcels out. As a small business, we understand you have other priorities to be worrying about. Let us help make sending parcels simple. When you link your Magento account with DHL Parcel UK, you can speed up sending parcels and cut down on unnecessary admin time.
---
Benefits of linking your account
Quick Send can save you valuable admin time which you can use for other important tasks. With all of your e-commerce orders in one place, it's easy to keep track of all your orders and what you are spending on delivery.

Book parcel deliveries in no time
When you sell an item on your website, we'll automatically input all of the buyer's details into our booking form, along with the dimensions and weight of the parcel.

Link with multiple marketplaces
Keep on top of orders, by linking all of the channels you sell on with DHL Parcel UK. When you sell an item on any platform, we'll import all of the details into our booking form.

Value added service
Take advantage of our completely free value added service which is designed for e-commerce sellers. We can help you to get your orders out quickly and easily.
---
Link with multiple channels
Sell on more than one marketplace? You can link with multiple e-commerce channels and see all of your unsent orders in one place, making customer deliveries even easier to manage. We can integrate with some of the most popular marketplace platforms. Take a look at the list below to see if we can link with the channel you use.
---
Upload a CSV of your orders
Alternatively, if you aren't using one of the above platforms to sell your goods, you can download our CSV template. Simply fill in the template and upload to the DHL Parcel UK website. We will then create multiple bookings for you based on the information you provide - all you need to do is check you are happy and confirm.
---
Many ways to save
Your business could save more than just time – we provide lots of discounts and offers to make it even cheaper to send a parcel. See how you could save below.