When you setup an online business it's possible to integrate and automate elements of the posting and packaging process. At DHL we currently integrate with:
Ebay

BigCommerce

Etsy

Magento

OnBuy

Prestashop

Shopify

Squarespace

WooCommerce

Amazon
Read on to find out more and discover our thoughts on some of the best online selling platforms for small businesses.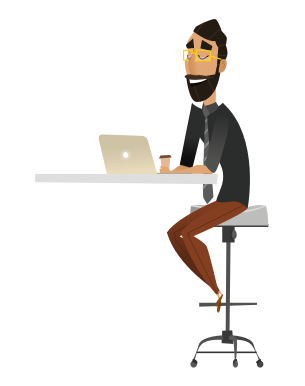 ---
GETTING STARTED WITH ECOMMERCE PLATFORMS
The internet has revolutionised retail. Small businesses have a multitude of online options and choosing the best ecommerce platform for your business can make a big difference. No longer are aspiring entrepreneurs required to invest big before they can display and sell their wares. With the bricks-and-mortar concept now feeling slightly dated if anything, the first steps tend to be taken online.
In order to get your business up and running though, you'll still need to pick the right online selling platforms for your setup. You need a great website for starters and choosing a suitable e-commerce platform that will work well with is going to be vital.
Once you've chosen an online selling platform the next step will be finding a cost-effective and reliable delivery partner to help you get your customers' orders out quickly. Did you know DHL Parcel UK can integrate with 10 of the most popular e-commerce platforms, saving you valuable admin time?
---
Quick Send
We know you are busy running a business and don't have time to book parcel deliveries. That's why we developed our Quick Send service to help you get customer orders out in no time. When you link your e-commerce platform, we'll automatically fill in our booking form for you every time you sell an item. You'll be able to see all unsent orders on the DHL Parcel UK website. All you need to do is review and if you are happy, click 'Send'.
Take a look at the e-commerce platforms we are able to integrate with below:
---
CHOOSING THE RIGHT PLATFORM FOR YOUR BUSINESS
So how do you go about picking the right e-commerce platform? There are so many to consider; each one with different benefits; each one claiming to be the best. Below, we list ten of the most popular examples to give you a bit of inspiration.
---
SHOPIFY
Perhaps the best-known of all e-commerce solutions, Shopify has plenty to offer for small businesses. The biggest selling point is undoubtedly ease of use; it's designed for business owners who simply want to set up and go without fussing around.
While visual customisation capabilities are limited, Shopify does have an impressive feature in its app store. Much like you would with a smartphone or tablet, you're able to pick and choose from a huge range of functionality-extending add-ons - many of which are free.
---
BIGCOMMERCE
Bigcommerce is one of the most popular online selling platforms, not only in the UK, but around the world. This hosted solution is particularly SEO-friendly, with well-formatted pages and URLs making it easy for prospective customers to stumble across your store.
What's more, Bigcommerce is pretty. This may sound a bit trivial, but a good-looking and easy-to-use interface will only make your products more likely to sell. This extends to the admin dashboard as well, making all the behind-the-scenes stuff easier for you.
---
MAGENTO
Magento has built up quite a user base since being launched in 2008. Among the retailers relying on it are Nike, Olympus and Paul Smith - but that's not to say it won't be a great fit for your small business too.
The platform's popularity can be put down to a number of factors, not least its sizeable collection of features, near-limitless customisability and invaluable versatility. Above all, Magento is powerful - so powerful in fact that it requires dedicated web servers, but if you can account for this, the possibilities are endless. Otherwise, Magento Go - the hosted version - is a great compromise.
---
WOOCOMMERCE
Close to 75 million websites depend on WordPress; if yours is one of them, you might want to consider the dedicated WooCommerce plugin as your selling platform. Seeing as it's designed to be used alongside the CMS, it's extremely easy to install and learn. The basic version is also free.
Handy features include a central dashboard that tells you exactly what's happening in your store and a selection of 'WooThemes' to help you make it look pretty.
---
ETSY
If vintage trinkets and handcrafted goods are your thing, you'll be at home on Etsy. Once again, it won't give you the freedom afforded by many of the other platforms listed here, but it's definitely easy to use and provides a great base from which to build a new business. Plus you won't need to set up your own website or domain.
Benefits include the site's ready-built audience of 30 million users, and a simple payment model which involves a small listing fee and a minute percentage of each transaction going to Etsy.
---
PRESTASHOP
If you are a new business and want to keep start-up costs low, Prestashop may be the solution for you as you won't pay any set-up fees or monthly charges.
Prestashop has everything you need to run a successful online business. There's some great out of the box design, marketing and SEO tools and over 25,000 plugins so you can customise to your needs.
Best of all, you don't need to be an tech expert to use Prestashop. In fact, the easy-to-use interface means even the most tech-adverse user can set-up a professional and user-friendly online shop in no time.
---
EBAY
eBay is one of the world's biggest online marketplaces, with 2 billion transactions on the site every day. Traditionally the domain of hobby sellers, more and more businesses are now using eBay to sell their goods online.
eBay started out as an auction site, where buyers could bid on items they were interested in. In recent years, a 'Buy it now' option was added which meant buyers could immediately purchase an item without having to wait for the auction to end.
You can chose whether to list your item for auction or with a fixed price. We recommend using the auction option if demand is high and stock is limited. For items you have in bulk, adding a fixed price works better.
---
Amazon
When you sell on Amazon, your products are listed alongside Amazon's own offering, meaning you will benefit from the company's huge customer base and strong brand recognition.
There's two ways you can sell on Amazon – Fulfilment by Merchant (FBM) or Fulfilment by Amazon (FBA). With FBM, you will store inventory, distribute orders and manage customer enquiries. In contrast when you choose FBA, Amazon will do all of these tasks on your behalf. As you can imagine, there is a higher cost associated with this service so FBM is the recommended route for start-up businesses.
---
Squarespace
Squarespace's extensive design features and visually appealing templates make it the perfect platform for anyone creative who wants to showcase their product in the best light. That's why Squarespace is the e-commerce platform of choice for many artists, photographers and independent designers.
Not sure if it's is the right platform for you? Squarespace offers a completely free 14 day trial so you can test drive the site and see if the features meet your needs.
---
ONBUY
Whether you're just starting out or you're more established, this is the perfect platform for small businesses and big brands alike - from eCommerce entrepreneurs to household names and everything in between. Plus, thanks to its competitive sales fees, complete lack of listing fees and official PayPal partnership, it's both easy and cost-effective to sell your products on OnBuy as it expands into over 140 additional countries worldwide by 2023, starting with 40 initial sites in 2020.
---
So when the time comes to find a new e-commerce platform, you certainly won't be short of options. The competition in this sector is fierce, and it has forced each provider to do what they can to make their offering stand out from the crowd.
The result is a wide range of solutions with varying benefits; pick one that matches your needs and you'll be set for small business success.