HOW TO WEIGH &
MEASURE A PARCEL
OUR GUIDE WILL HELP YOU TO
ACCURATELY MEASURE YOUR PARCEL
The best and most accurate way to check an item's weight is of course, to weigh it using scales – but if you find yourself needing to get an idea of an item's weight and find yourself without any gadgets to assist, it can be helpful to use household or commonplace items to calculate an approximate weight of your parcel. This is not an exact science, but it can help you to estimate the weight and size of your parcel in order to get an idea of how much it will cost to send.
When you come to book your parcel delivery, it is important to provide an accurate weight and measurement. If you under-declare the weight or size in your booking, you risk the collection being refused or the parcel getting returned back to you.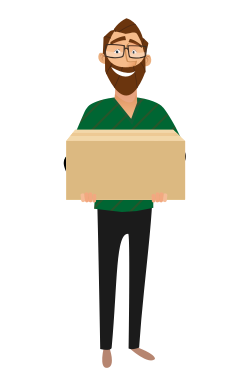 ---
How to weigh your parcel
If you're likely to be sending items regularly through the post, it's a good idea to invest in a pair of scales. Even a basic set will be accurate enough for postage purposes without having to break the bank – with many options available from high street retailers and online marketplaces for around £10 – a quick Google search will show you what's available.
If you are sending a small parcel then your kitchen scales will work perfectly. For large or awkwardly shaped parcels, we recommend using your bathroom scales instead. Weigh yourself holding the parcel and then again without the parcel – deduct the second weight from the first to find out the weight of your parcel. Remember to always make sure you weigh your parcel in metric – that's grams / kilograms.
---
Don't have scales to hand?
We collect and deliver countless parcels every day of all sorts of size, weight and value, so we couldn't possibly list them all here, but to give you an idea of some of the more commonly sent items with their approximate weight, here's a handy table:
Popular items sent through the post
---
| | |
| --- | --- |
| Popular item | Approx weight |
| Single DVD in a case | 100g |
| Magazine | 250g |
| Pair of size 5 Women's trainers | 300-400g |
| 400 page paperback book | 300g |
| Teddy bear | 400g |
| Pair of Women's jeans | 450g |
| Pair of Men's jeans | 700g |
| 400 page hardback book | 700g |
| Pair of size 10 Men's trainers | 800-900g |
---
---
Our weighing life hacks
If you're struggling to find scales to weigh your parcel try feeling the weight of your parcel against everyday household items.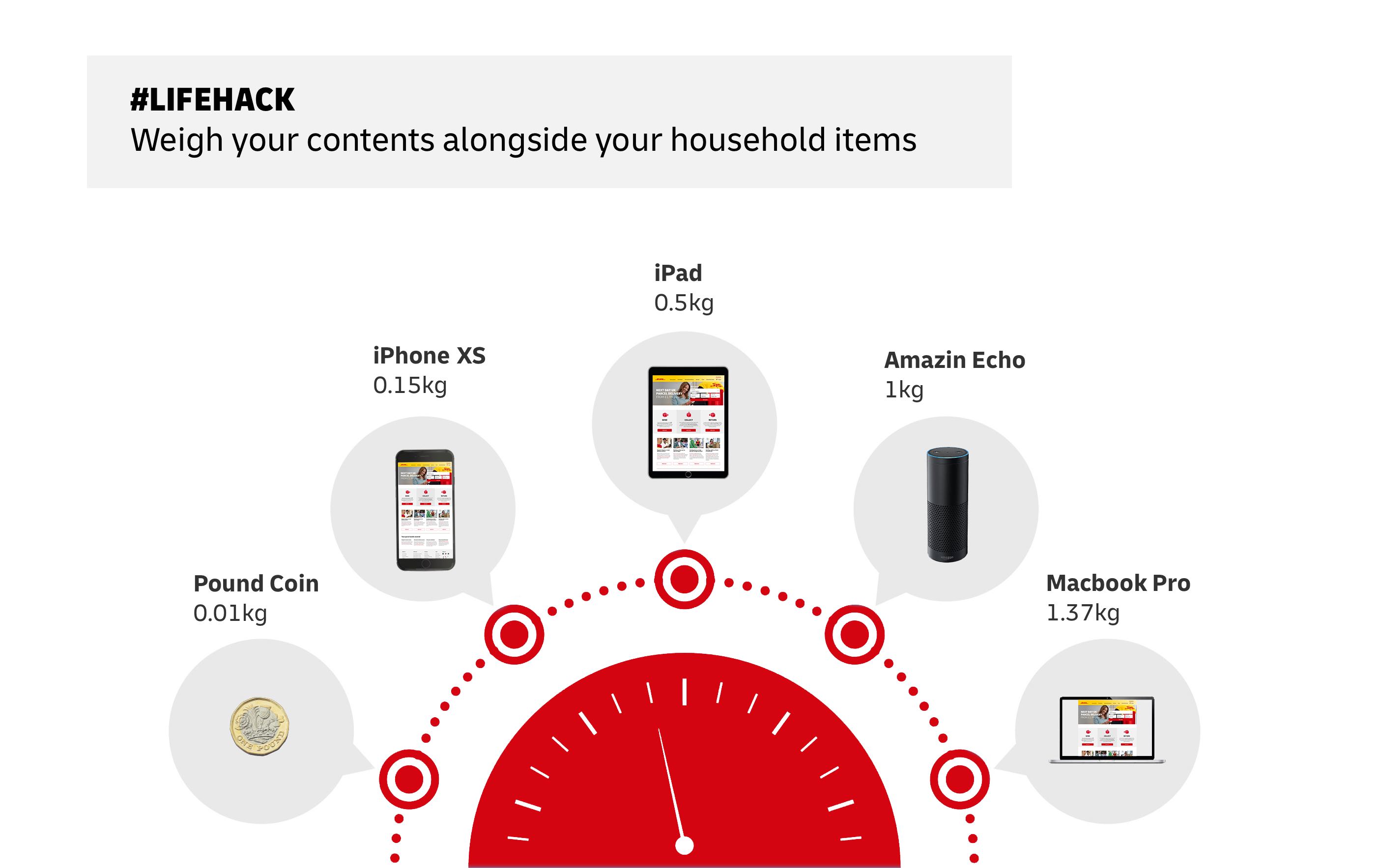 If you're sending heavier items, did you know that 2 litres of fluid weighs roughly the same as 2kg? This handy comparison chart should help you when it comes to getting the weight of your parcel correct.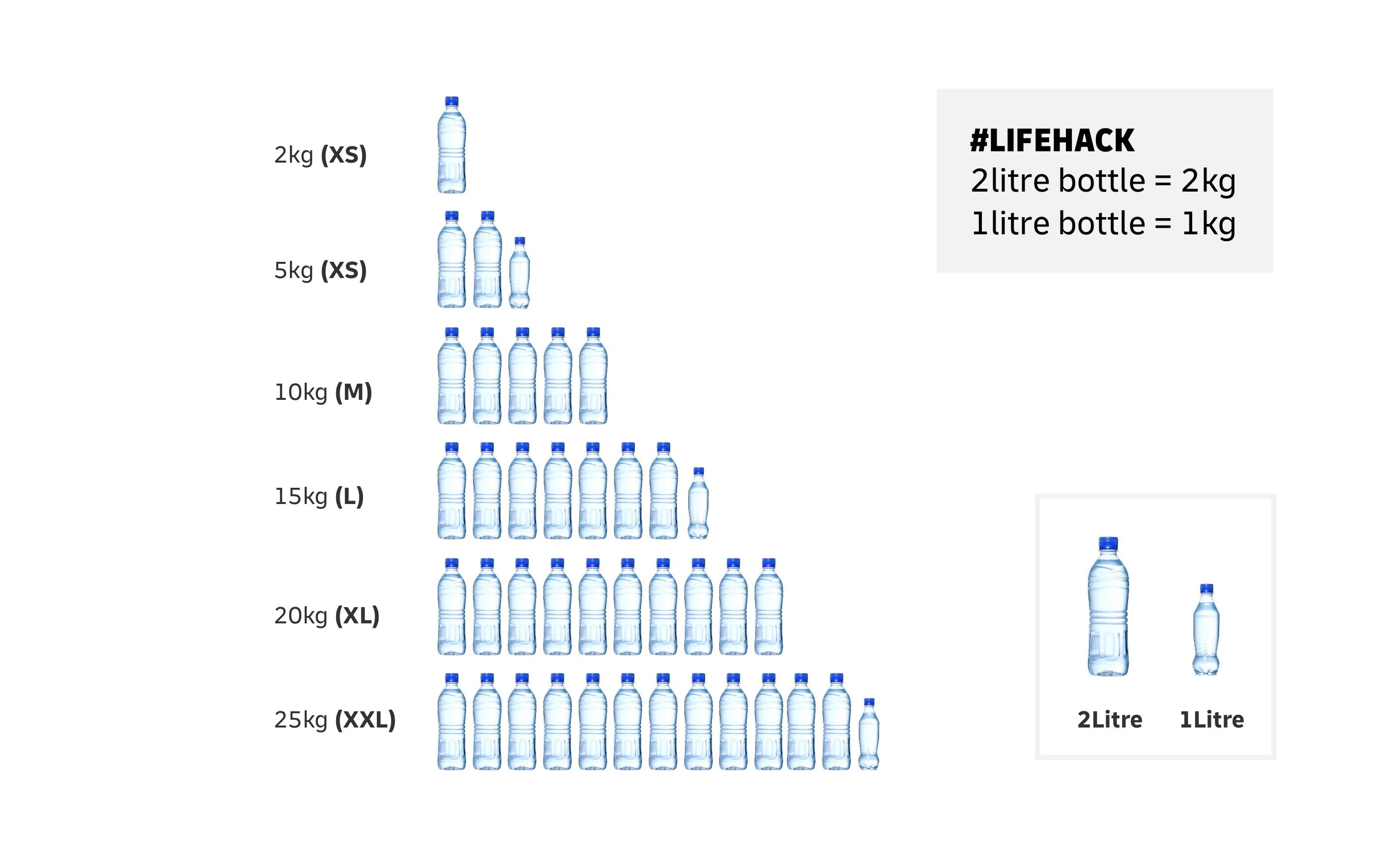 ---
Need more help? Handy comparisons in the cupboard
Ordinary things in the cupboard are useful as they're mostly sold by weight; a bag of sugar or flour, tin of beans or tomatoes or a packet of crisps or sweets are all labelled in grams / kilos and can allow you estimate how much your items weigh. For example:
A standard packet of crisps weighs 25g, which is roughly about the same as a silver ring or lightweight sweater.

A regular can of baked beans or tinned tomatoes weigh around 400g - 440g which is about the same as a sweater.

A 1k bag of sugar weighs around the same amount as a lightweight laptop or tablet.
---
Take into account packaging weight
Remember the packaging you send your items in will add to the overall weight of your parcel so please take this in to account.
Fairly light in weight, padded envelopes are ideal for sending items such as DVDs, brochures or smaller items such as costume jewellery or gifts. Cardboard boxes will protect your items better, but will weigh more. As a guide, see below for some approximate weights of envelopes and small boxes for posting.
An empty, standard shoebox weighs around 200g

A small empty box with dimensions of 18 x 11 x 6 cm weighs around 15g

A C4 paper envelope weighs around 25g

An A4 bubble padded envelope is around 25g
In addition you'll need to factor in the padding you'll need to pack around your items such as bubble wrap or air pockets.
---
Measuring your parcel
It's important to understand that not only the weight of your parcel affects the price you'll pay to ship a parcel across the UK or abroad, but also the dimensions of the parcel. So as well as weighing it, make sure you measure your parcel to get the cheapest delivery rates available for the item.
Use a ruler to measure the width, length and height of your parcel in metric – that's mm / cm. If you are sending a large parcel, you may need to use tape measure instead.
---
No ruler? No problem!
If you're struggling to find a ruler or a tape measure to measure your parcel, use our paper measurements to ensure you get the dimensions correct.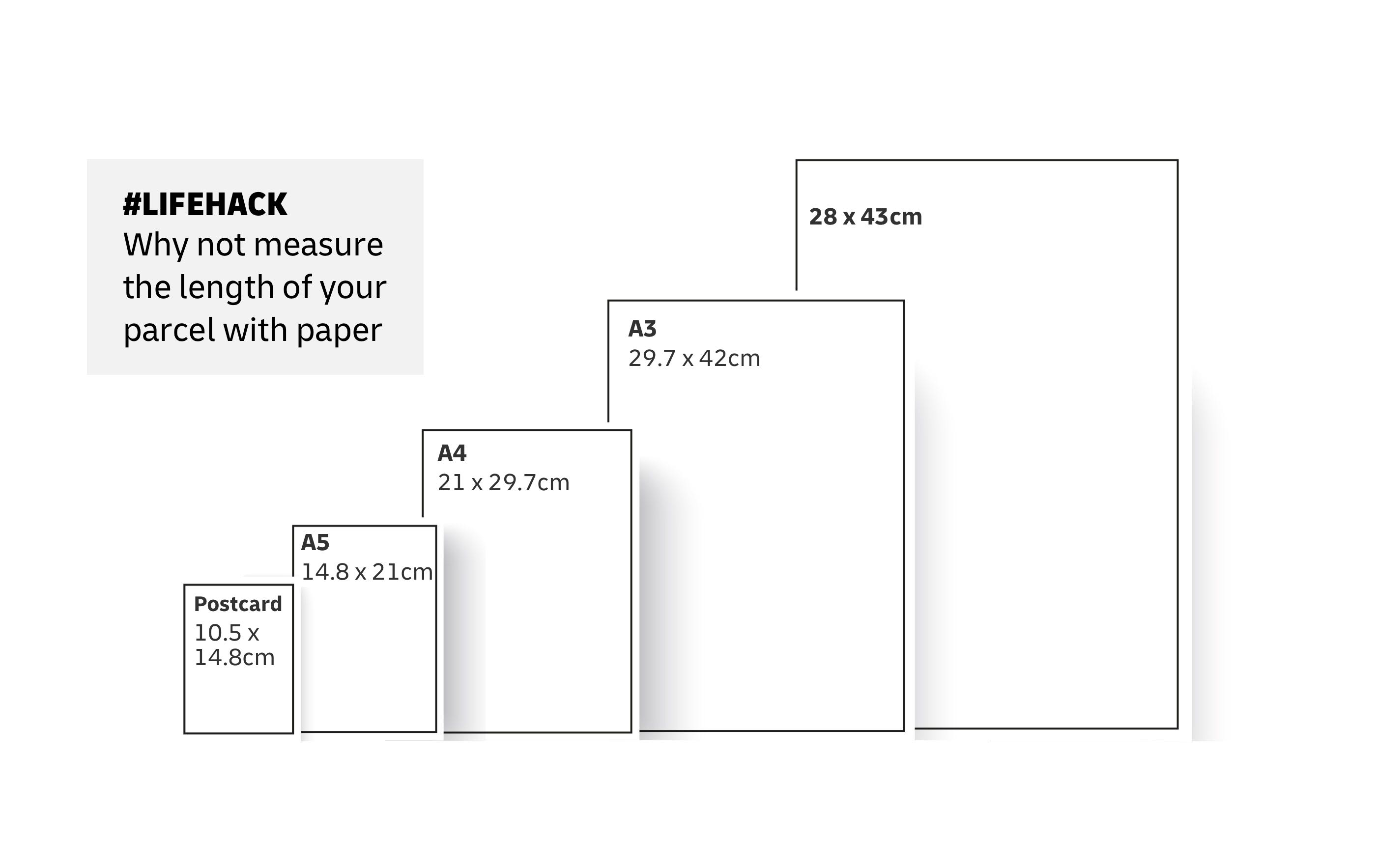 Alternatively, we have measured some handy household items that will be able to help you when it comes to sizing up your parcel.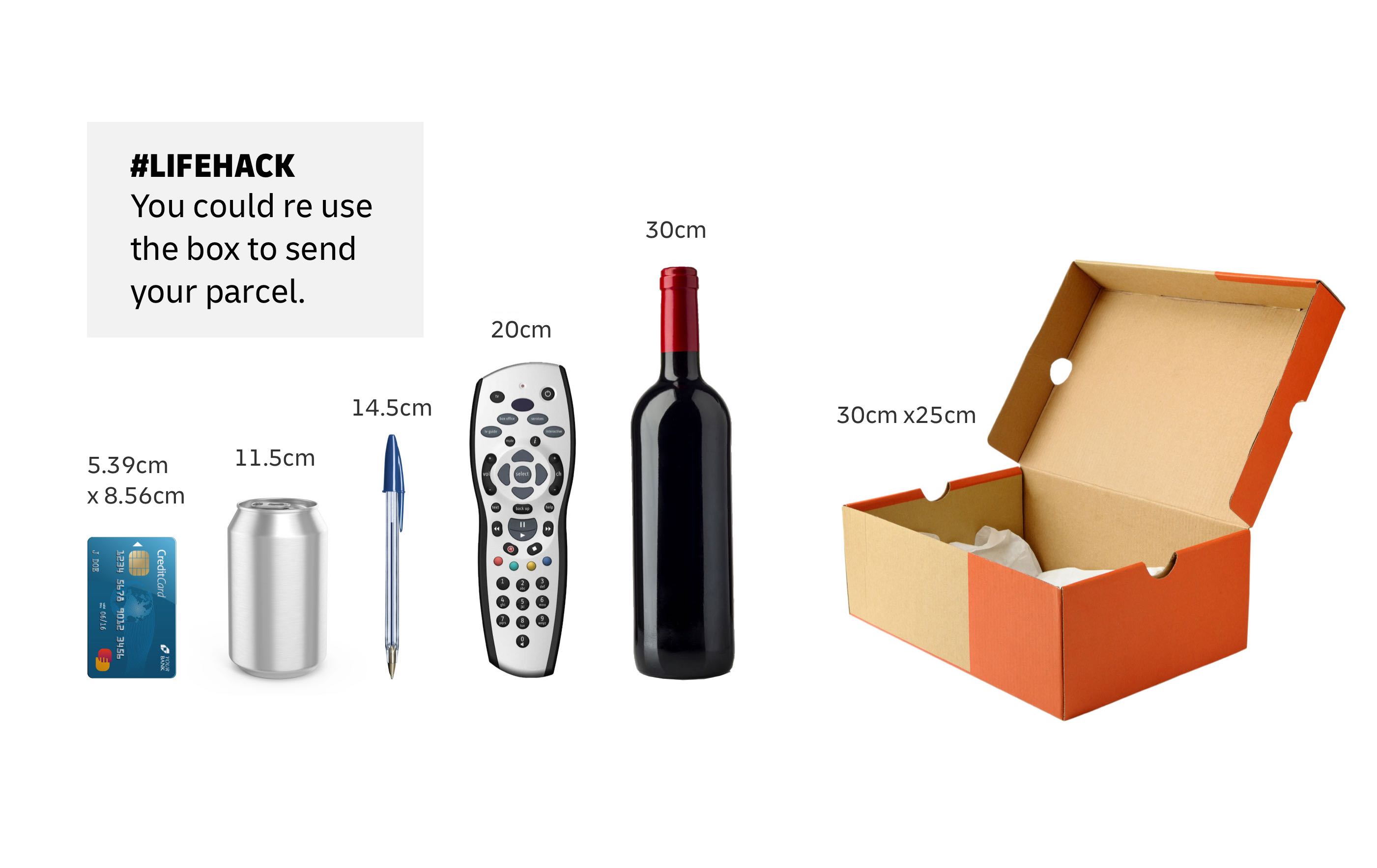 ---
Sending a parcel in the UK
We offer a cheap and fast next day delivery service across the UK and Republic of Ireland with prices starting from as little as £2.79 . You can make your parcel delivery even cheaper by dropping off your parcel at one of our 3,500 ServicePoints or 50+ DHL Parcel UK depots.
Our Next Day UK Parcel Delivery
---
| | |
| --- | --- |
| Size | Price (starting from) |
| Standard parcel | £2.79 |
| Large parcel | £6.79 |
| Extra Large parcel | £8.79 |
---
UK parcel sizes
When sending a parcel within the UK, we have 3 pre-defined parcel sizes (standard, large and extra large) for you to choose from. Before booking your UK parcel delivery, you'll need to weigh and measure your parcel and then select the pre-defined size which the parcel fits under.
You can see the maximum dimensions and weight for each UK parcel size below:
UK parcel sizes
---
| | | |
| --- | --- | --- |
| Large | X-Large | XX-Large |
| Up to 15kg | Up to 20kg | Up to 25kg |
| 60 cm (l) x 60 cm (w) x 60 cm (h) | 65 cm (l) x 65 cm (w) x 65 cm (h) | 70 cm (l) x 70 cm (w) x 70 cm (h) |
---
Sending a parcel internationally
We ship to over 160 countries worldwide with transit times of just 2-3 days* for many popular destinations. There are a few things to know when sending a parcel outside of the UK, whether it's bound for an EU country or further afield – for more information and helpful advice read more about sending parcels abroad.
See the cost of sending a parcel (up to 5kg) to some of our most popular international destinations below:
International shipping prices
---
| | |
| --- | --- |
| Destination | Price (5kg parcel) |
| | £40.03 |
| | £36.40 |
| | £30.06 |
| | £30.06 |
| | £29.75 |
| | £33.63 |
| | £34.77 |
| | £33.33 |
---
International parcel sizes
We don't have pre-defined parcel sizes when sending a parcel to an international destination. Instead, you need to provide an accurate weight (in kilograms) and size (in centimetres) for your parcel. Your parcel can weigh up to 25kg and can be no bigger than 120cm (l) x 80cm (w) x 80cm (h).
The volumetric weight of a parcel is: length x width x height in centimetres (cm) divided by 4000. If your parcel's volumetric weight is more than the actual weight of your parcel then you'll be charged the volumetric weight price. All you need to do is enter the correct weight and dimensions of your parcel into our quick quote or booking form and we'll work out the cost for you.
So remember, in parcel delivery, size and weight matters! Once you know the weight and dimensions of your parcel, our quick quote will calculate the cheapest International or UK rates for you.