TRACKING YOUR PARCELS FROM DOOR TO DOOR
KEEPING YOUR RECIPIENTS UP TO DATE WITH THEIR DELIVERY
Your customer will be kept in the loop from collection right through to delivery with our email and text notifications and live online tracker.
We believe sending and receiving parcels should be easy and that's why we always strive to deliver a convenient and flexible service which fits into the busy lifestyles of our customers and their recipients.
When you send a parcel using our next day UK delivery service, we'll keep your customer in the loop with regular email and text notifications throughout the parcel's journey. To take advantage of this completely free service, simply provide your recipient's email address and telephone number when placing the booking and we'll do the rest.
---
No need to wait in for parcels
Gone are the days when a recipient needs to wait in all day for a parcel to be delivered. With our email and text notifications, your recipient will receive a one-hour time slot on the morning of the delivery and a 'You're next' text when they are the next stop on the driver's route.
Our live tracker is updated in real time so you and your recipient can see exactly where the parcel is from collection right through to delivery. On the day of the delivery, the tracker will even show how many stops our driver has on their route and which stop the driver is at throughout the journey.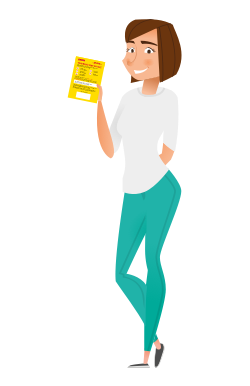 ---
Flexible and convenient delivery
If the delivery day allocated isn't convenient for your recipient, they can easily reschedule the delivery to another day. Alternatively, they can opt to have their parcel delivered to a safe place, neighbour or DHL Parcel UK ServicePoint if none of the days available are convenient.
When you place the order, let us know if you are happy for the parcel to be left with a neighbour or in a safe place. If you are sending a valuable item, we recommend specifying that the parcel needs to be signed for by your recipient, as well as taking out extended contents cover.
| | |
| --- | --- |
| | Collect from local DHL Parcel UK ServicePoint |
| | Collect from DHL Parcel UK depot |
| | Leave in a safe place |
| | Leave with a neighbour |
| | Change the delivery date |
---
Sold something online?
Notifications, tracking and rescheduling options are now commonplace when you order from a big retailer. When you send with DHL Parcel UK, we will equip your business with these same value added services which customers love.
We offer a cost effective parcel delivery service for small businesses and eBay sellers with prices starting from £2.79 * for next day UK delivery. As a business owner, we understand your time is precious. If you've sold something online, email and text notifications are a great way of keeping your customers informed of when their parcel will be delivered. This, in turn, could reduce the number of calls and queries into your business.
---
What notifications will your recipient receive?
If you have provided your recipient's email address and telephone number when placing your order, your recipient will regular notifications with the status of their parcel delivery.
| | |
| --- | --- |
| | Delivery due date - once the parcel has been collected or dropped off at a DHL Parcel UK depot or ServicePoint, a notification will be sent to your recipient confirming the delivery date. If this day isn't convenient, the recipient can click the 'Rearrange a delivery' button to reschedule to another day or request that the parcel is delivered to a safe place, neighbour or DHL Parcel UK ServicePoint. |
| | One hour delivery window - on the morning of the delivery, your recipient will receive a one-hour delivery window so they won't need to wait in all day. In this email, there is also a link to request a notification when the driver is one stop away. |
| | You're next - the customer can request to receive a 'You're next' text when the driver is one stop away, typically 5-15 minutes before the delivery. A request can be made in the tracking section or by following the link in the 'One hour delivery window' notification. |
| | Left with a neighbour - if you have specified that it's alright to do so, our driver will leave the parcel with a neighbour. Your recipient will receive a text and email notification, confirming the neighbour's house name or number. |
| | Left in a safe place - if you have instructed that the parcel can be left in a safe place, our driver will leave the parcel in an appropriate location if the customer isn't home. An email and text notification will be sent confirming where the parcel has been left. |
| | No one home - if you have specified that the parcel needs to be signed for and can't be left safe, your parcel will be returned to your recipient's local DHL Parcel UK depot. An email and text notification will be sent to your recipient so they can reschedule the delivery to a more convenient time. |
| | Taken to DHL Parcel ServicePoint - if your recipient isn't home, the parcel can also be taken to their nearest DHL Parcel UK ServicePoint. There is over 3,500 ServicePoints across the UK so 90% of the population are within a 10 minute journey of a shop. |