LINKING YOUR AMAZON MARKETPLACE ACCOUNT
It's easy to link your Amazon Marketplace account to DHL Parcel UK. We retrieve all your sold items and import your recipients' delivery details straight into our booking form. After clicking the link below, we'll redirect you to Amazon to login and link your accounts – you will then automatically come back to the DHL Parcel UK website to continue your Amazon courier booking.
Linking your account gives DHL Parcel UK access to import order items from your Amazon seller account. DHL Parcel UK will not receive any further personal or financial information and you can unlink at any time.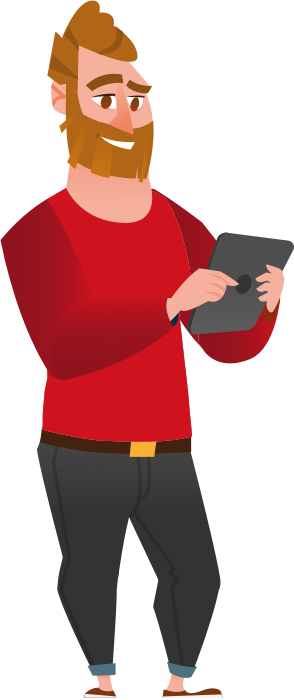 ---
WHAT IS AMAZON MARKETPLACE?
So, what is Amazon Marketplace? Perhaps one of the most popular e-Commerce platforms, Amazon Marketplace allows you to sell your goods alongside Amazon's staple offering. As a marketplace seller, you'll benefit from access to Amazon's customer base as well as the strong reputation of the brand. Many people use Amazon Marketplace to sell their goods – in 2018 alone, 1,000,000,000 sellers joined the platform with third party sellers accounting for 31% of Amazon's annual sales.
There's two ways you can sell on Amazon. With fulfillment by merchant (FBM), you handle the distribution and customer service yourself. You only pay a referral fee when you sell an item which is a small percentage of the total sale price. This allows you to avoid Amazon marketplace delivery charges and use an Amazon courier like DHL Parcel UK.
Alternatively, you can use fulfilment by Amazon (FBA). In this scenario, Amazon stores and ships items on your behalf, as well as handles customer service. As you'd expect, there is a larger fee for using this service.
---
WHY LINK YOUR AMAZON ACCOUNT?
We understand that running an e-Commerce business can be hard. Not only are you competing with other marketplace sellers but also with big retailers who are offering fast delivery at an affordable price. If you are an Amazon seller who is looking for a fast and affordable delivery solution, then we can help.
Linking your Amazon account is easy.
We offer next day parcel delivery in the UK, with prices starting from just £2.79* . To speed up sending Amazon parcels, we can link your Amazon Marketplace account with DHL Parcel UK so that when you sell an item, all of the details will automatically pull through into our booking form.
We are committed to helping our Amazon sellers easily send parcels via our Amazon courier service. This is a value-added service to save you admin time which you can reinvest into your business to complete other business-critical tasks.
---
BENEFITS OF LINKING YOUR AMAZON ACCOUNT
Linking your Amazon account with DHL Parcel UK, will save you valuable admin time and improve your reputation as a seller. Here are some great reasons to link your account:
1. Send orders in one click
When someone orders an Amazon item, we'll automatically import all the details into our booking form. All you need to do is review the details and if you are happy, click 'Send'.
2. Improve your Amazon seller rating
Amazon customers have come to expect a quick delivery service. By integrating your Amazon account, we'll automatically input details so you can get Amazon parcel orders out straight away.
3. Link with more than one marketplace
You may sell your goods on multiple e-Commerce platforms which can be difficult to keep track of. We can link with multiple platforms so you can see all of your orders in one place.
4. All invoices in one place
You can download order invoices and statements for all orders across multiple platforms.
---
What e-Commerce platforms can we link with?
Use more than one marketplace to sell your goods? That's not a problem – we can link with more than one marketplace. We'll import order details from each channel you're linked with into your DHL Parcel UK for quick parcel sending. To link another account, click on the logo below.
---
UPLOAD A CSV OF YOUR ORDERS
Alternatively, if you aren't using one of the above platforms like Amazon Marketplace to sell your goods, you can download our CSV template. Simply fill in the template and upload it to the DHL Parcel UK website. We will then create multiple bookings for you based on the information you provide - all you need to do is check you are happy and confirm.
---
MANY WAYS TO SAVE
As an Amazon seller, we understand you need to keep your postage costs down to increase your profit margins. When you send an Amazon parcel with a DHL Parcel UK Amazon courier, there are many ways you could save money. You are also able to avoid Amazon marketplace delivery charges and storage charges that are part of Amazon's fulfilment.
Receive 3% cashback into your pre-pay account when you add funds (Terms apply).
Save money when you drop your parcels off at one of our 3,500 ServicePoints or 50+ DHL Parcel UK depots (Terms apply).
The more you send, the more you save. Multi parcel discounts available on some UK services (Terms apply).