ONBUY DELIVERY
Spending lots of time packing and posting OnBuy orders? Let us lighten the load with our bulk shipping tool, Quick Send. This helps you to book multiple parcel deliveries in no time, with great OnBuy tracking facilities, so you can get on with what you do best – selling!
---
How to link your OnBuy account
Quick Send automates the booking process so that when you get an OnBuy order, all of the details will immediately import into our booking form. All you need to do is login to your DHL Parcel UK account, review the booking and pay.
What are you waiting for? It's quick and simple to link your DHL Parcel UK account with your OnBuy account and could save you lots of time in the future. Simply click the link below and login to OnBuy, then follow the instructions on how to link your account and get started with OnBuy delivery.
Please note, linking your account gives DHL Parcel UK to permission import items from your OnBuy account. DHL Parcel UK will not receive any further personal or financial information and you can unlink from OnBuy fulfilment at any time.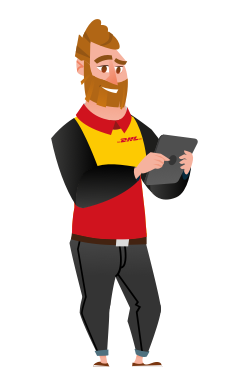 ---
What is OnBuy?
So, what is OnBuy? OnBuy was founded in 2016, yet has grown so rapidly since it was first established that it definitely shouldn't be overlooked. In fact, OnBuy is currently the fastest-growing marketplace in the world, and saw an incredible 24,000% growth across its formative years.
OnBuy was launched with the goal of creating a fairer and more transparent marketplace, by putting buyers and sellers first. Unlike some other eCommerce platforms, such as Amazon Marketplace, OnBuy doesn't compete with its own community of sellers by listing its own products - and never will. Instead, OnBuy's goal is to connect professional business sellers with buyers around the world, across everything from homewares and technology to food, drink, clothing and toys.
Whether you're just starting out or you're more established, this is the perfect platform for small businesses and big brands alike - from eCommerce entrepreneurs to household names and everything in between. Plus, thanks to its competitive sales fees, complete lack of listing fees and official PayPal partnership, it's both easy and cost-effective to sell your products on OnBuy as it expands into over 140 additional countries worldwide by 2023, starting with 40 initial sites in 2020.
Get started with exceptional OnBuy delivery and tracking by linking your OnBuy account to DHL Parcel UK today.
---
Benefits of linking your account

Automatically import all your item details ready for sending
When you sell an item on OnBuy, the details will automatically import into our booking form. Simply review the booking and pay.

Book all your items at once in a quick and simple process
When you login to your DHL Parcel UK account, you'll see all outstanding orders so you can book all of your parcel deliveries at the same time.
Flexible booking options will keep all your customers happy
You'll be given the option to edit orders so you can accommodate customer shipping requests before paying for your delivery.
---
LINK WITH MORE THAN ONE MARKETPLACE OR ECOMMERCE PLATFORM
We know that many sellers use more than one marketplace or eCommerce platform. Perhaps you have a Squarespace website but also list your products on Amazon Marketplace or OnBuy – that's not a problem! We can integrate with as many platforms as you use so you can login to DHL Parcel UK and view all of your outstanding orders in one place.
We can link with 10 of the most popular eCommerce and marketplace platforms, including eBay, Etsy and Shopify. Take a look at all of the platforms we can link with below.
---
Upload a CSV
If you don't use one of the above marketplace or eCommerce platforms to sell on, it's quick and simple to upload a CSV file that contains multiple orders. Simply download our CSV template and fill in the relevant fields. Save as a CSV and upload to the website. Multiple bookings will be created based on the information you've provided. All that's left to do is review and pay.
---
Many ways to save
When you choose OnBuy delivery with DHL Parcel UK, you could save more than just time – we provide lots of discounts and offers to make it even cheaper to send a parcel too. Here's three ways you can bring down the cost of your parcel delivery:
£1 off every additional UK parcel in a single home collection order
When you book more than one UK parcel delivery in a single order and choose to have your parcel collected directly from your door, we'll give you £1 off every additional parcel sent.
So it's worth waiting until all of your parcels are ready and placing one order.
Drop off your parcel at 3,500 DHL Parcel UK ServicePoints across the UK
Save money on the cost of your parcel delivery when you drop off at any of our 3,500 ServicePoints across the UK.
Our shops are open from 8am until late so you can drop off your parcel at a time which is convenient for you.
Save time and money with
PrePay
You can save time at checkout by adding money to your PrePay account in advance and selecting this payment option.
Every time you add funds to PrePay, we'll reward you with 3% of the value back into your account.