WHAT AND WHERE DO PEOPLE SEND PARCELS IN THE POST
WHAT HAS BEEN SENT? WHERE HAS IT BEEN SENT? WHERE WILL YOU SEND NEXT?
A LOOK BACK AT OUR FIRST YEAR
Our website for personal senders launched in July 2020, in the midst of the Covid-19 pandemic. This was a year like no other - with the Government mandating that everyone stays at home, parcel deliveries became more important than ever.
In the last year, we've seen unprecedented parcel volumes come through our network. To ensure we continued to provide our customers with an excellent service throughout the pandemic, we recruited 550 new drivers and opened an additional 5 parcel handling and processing locations.
To celebrate our first anniversary, we take a look at some of the key trends from our first 12 months of trading. Read on to find out who is sending the most parcels, where they are headed and what type of items come through our network…
---
WHAT ARE PEOPLE SENDING IN THE POST UK VS INTERNATIONALLY
We have thousands of weird and wonderful items travel through our network every day. Since the website launched last year, our customers have used our delivery service to send car parts, diving equipment and even beekeeping supplies!
Below, we give you a snap-shot of some of the most popular items our customers send and whether they were headed to a UK address or further afield. The most popular items to send within the UK are clothing, non-perishable food and homeware. Whereas, clothing, electronics and books are favourites to send abroad.
| | | |
| --- | --- | --- |
| UK | VS | INTERNATIONAL |
| 17% | Non-perishable food | 11% |
| 20% | Homeware | 17% |
| 8% | Clothing | 14% |
| 10% | Electronics | 10% |
| 3% | Documents, paperwork & magazines | 6% |
| 7% | Car Parts | 6% |
| 3% | Gifts | 5% |
| 1% | Books | 3% |
| 4% | Sporting | 3% |
| 5% | Beauty | 6% |
| 3% | Toys | 5% |
| 1% | CDs, Records & Vinyl | 1% |
| 1% | Jewellery | 1% |
| 1% | Stationary | 1% |
| 1% | Games | 1% |
| 15% | Other | 10% |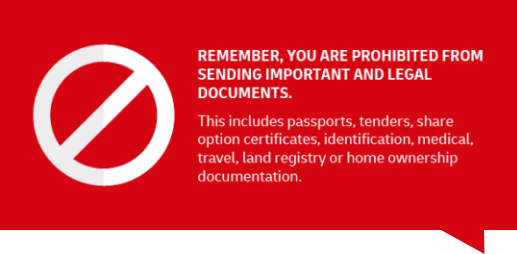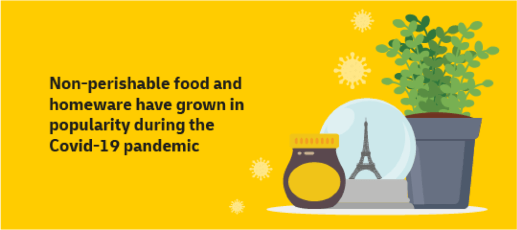 ---
WHO SENDS THE MOST PARCELS IN THE POST?
By default, if a user is logged into their personal Google account when accessing or browsing our website, Google Analytics can access profile information like age and gender. This information is available to us within our own websites Google Analytics account on send.dhlparcel.co.uk. We can see between 1st June 2020 and 31st May 2021 that men booked more parcel delivery over women;
62% of deliveries were booked by men vs. 38% of women.
Men spent around 40% more on parcel delivery than compared to women
Women had an average of a 9% conversion rate in comparison to men at 11%. However, Men aged 18-24 years (Gen Z) have the lowest conversion rate at just 7% compared to women aged 35-44 years (Gen Y) who had lowest conversion rate at 8.5%.
55% of all new users to the site were men and 45% were women
In both groups, 25-35 year olds sent the most parcels
In both groups, 18-24 year olds had the highest bounce rate
For more information on how google tracks gender please click here. The data stated above is what is available to us, as a business in our own GA account.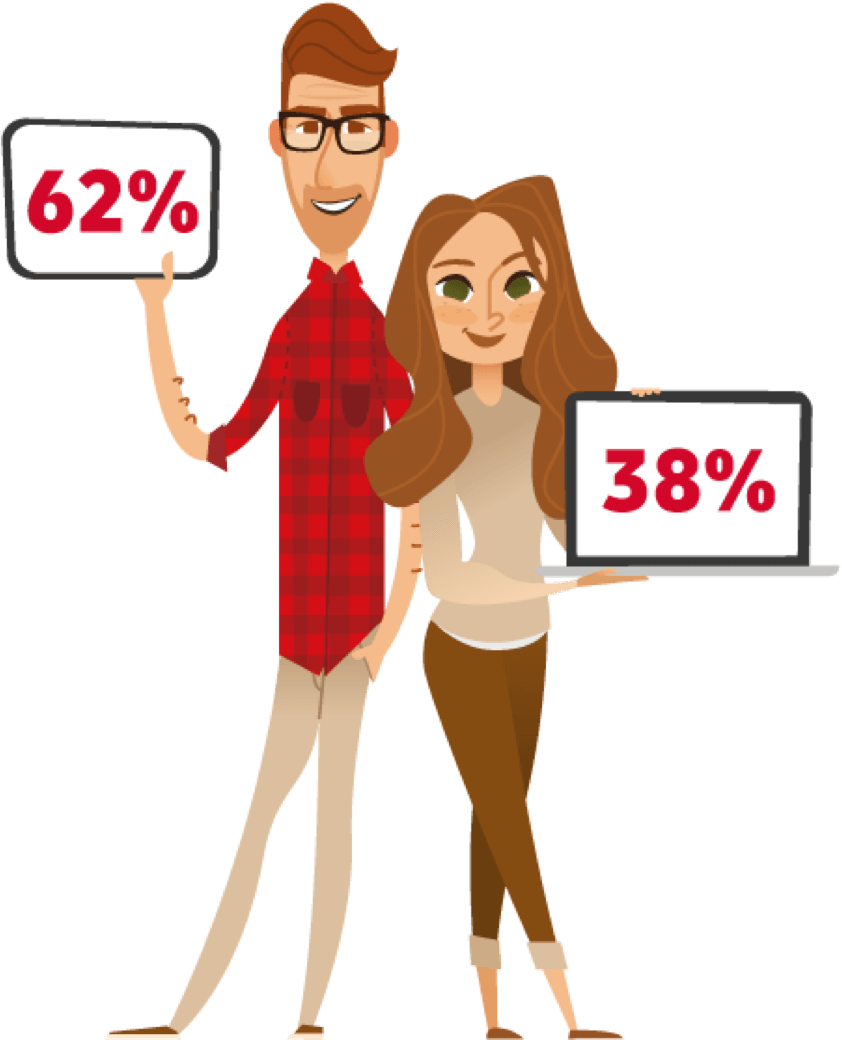 ---
WHAT IS THE AVERAGE AGE OF DHL PARCEL UK SENDERS?
Millennials (25 – 34 year olds) are the biggest group of senders on our site – over a quarter of parcel deliveries in the last 12 months were booked by this age group. They've grown up with marketplace sites, like eBay and Amazon at their fingertips, and are accustomed to selling items online to make a bit of extra money.
The next biggest senders are 35 – 44 year olds (18%) and 45 – 54 years olds (18%).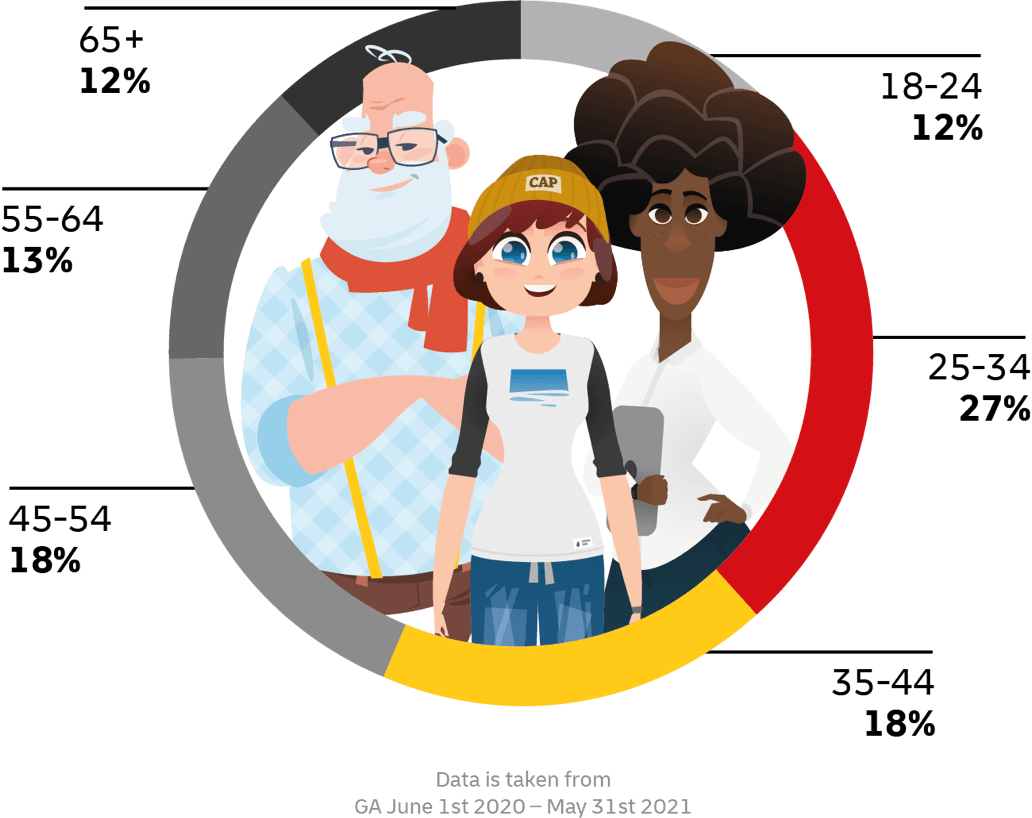 ---
WHAT DEVICE DO PEOPLE USE TO SEARCH AND BOOK THEIR PARCEL DELIVERIES ON?
Mobile phones are the most popular device for researching parcel delivery companies – 53% of our customers will search from their phone vs 44% on computer. However, when it comes to booking a parcel delivery the majority of our customers will use a computer (69% of bookings are placed on computer vs 28% on phone). This may be because individuals find it easier to print paperwork from their computer, although a label-less option is now available for UK deliveries.
---
WHERE ARE PEOPLE SENDING PARCELS TO ACROSS THE UK?
Greater London has a population of roughly 9 million people, so it's perhaps unsurprising that almost a quarter of parcels sent last year (19% to be exact) were headed there. This was followed closely by the South East of England where 15% of parcels were sent. On the other end of the spectrum, only 0.1% of parcels were sent to the Channel Islands.
| | |
| --- | --- |
| Greater London | 19% |
| South East | 15% |
| South West | 11% |
| North West | 10% |
| East Midlands | 7% |
| East of England | 7% |
| Yorkshire and the Humber | 7% |
| West Midlands | 9% |
| North East | 3% |
| Scotland | 6% |
| Wales | 6% |
---
WHAT INTERNATIONAL DESTINATIONS ARE PEOPLE OF THE UK SENDING PARCELS TO?
As a leading courier for international parcel delivery, our customers rely on our global expertise and fast transit times to deliver their parcels to 160 countries around the world. Between 1st June 2020 and 31st May 2021, 50% of all international parcels were sent to just 10 countries. Our most popular international destinations were: USA, Australia, Germany, Spain, South Africa, Italy, New Zealand, France, Canada and China.
Another 15% of international parcels were sent to: Netherlands, Hong Kong, UEA, Ghana, Philippines, Poland, Japan, Sweden, Portugal and Romania. This means the remaining 35% of international volume was shared across 140+ countries.
---
MOST POPULAR PARCEL SIZES SENT ACROSS THE UK
Almost a third of customers sent a small parcel to a UK address last year. A small parcel has maximum dimensions of 35cm (w) x 35cm (l) x 35cm (h) and weighs between 2-5kg, making it the perfect size for clothing, books and small electronics – all of which are popular items to send.
In comparison, only 3% of people sent an XXL parcel last year. An XXL parcel measures up to 70cm (w) x 70cm (l) x 70cm (h) and weighs between 20-25kg. This size is typically used for flat pack furniture and televisions which are less frequently sent through our network.
Here's a breakdown of our parcel sizes in order of popularity:
30% of all parcels sent through the network are Small (2-5KG)
22% of all parcels sent through the network are Medium (5-10KG)
20% of all parcels sent through the network are XS (up to 2KG)
16% of all parcels sent through the network are Large (10-15KG)
8% of all parcels sent through the network are XL (15-20KG)
3% of all parcels sent through the network are XXL (20-25KG)