HOW TO SAVE MONEY ON YOUR
PARCEL DELIVERY COSTS
THE #IPOSTANDSAVE CHALLENGE WITH
DOM CRICK, OWNER OF
PELICAN & THE ROSE
DHL Parcel UK partner with small businesses to see if switching from dropping their parcels off at the Post Office over booking a parcel delivery online with us is cheaper, faster and more reliable. We collect directly from your door and deliver the very next working day in the UK. So, with just a few clicks, you can book a parcel collection and delivery directly from your door. No longer do you need to leave the house or wait in line at the post office.
If you do prefer dropping your parcels off - all our customers can save money when they book online and drop off at any one of our 3,500 ServicePoints or 50+ DHL Parcel UK Depots. (Terms apply).
---
About The Pelican & The Rose
The Pelican & The Rose is a start-up fashion business run by Dom Crick, selling predominately t-shirts and bags online. Dom's goal is to empower mothers, women, sisters and daughters alike, through her clothing brand which promotes female empowerment, kindness and humility. One of the challenges facing any online clothing retailer is today's market is the level of competition. Staying relevant, having a unique selling point, offering a great product, having a user friendly website and getting the right parcel delivery provider is all key to the success of the business. So, when running a small online fashion business such as The Pelican & The Rose, to be successful you also need to make money and be cost effective. That's where we come in…
---
How To Save over 60% on your Parcel Delivery Costs
Dom of TP&TR previously used the Post Office for all her parcel delivery needs so we challenged Dom to trial DHL Parcel, now DHL Parcel UK.
86% of all parcels being sent by Dom weighed around 10kg each. At DHL Parcel UK we class this as a Medium parcel (up to 10kg in weight 45cm x 45cm x45cm). Dom was paying roughly £21.90 for a 1st Class service when sending via the Post Office - not to mention 10Kg is quite heavy when you are loading/unloading boxes out of your car and waiting in line at the Post Office.
Our next day, UK, door to door collection and delivery service for a Medium parcel starts from £6.99*

(ex. VAT)

when you drop off at one of our 50+ DHL Parcel UK depots or £8.38*

(Inc. VAT)

when you have a home collection.
Dom wanted to trial our home collection service and because she was sending more than 1 UK parcel in a single order she qualified for our bulk order discount and saved £1 on every additional parcel booked, reducing the price to just £7.38*

for a Medium parcel – which is £10.22 or 58% cheaper than Parcelforce's next day collection service

(£17.60)

. Bulk order discount equated to an additional saving of £72.
Dom saved over 60% on her delivery costs and enjoyed the added benefit of having all of the parcels collected from the comfort of her home.
In addition to these time saving parcel delivery options, DHL Parcel (now DHL Parcel UK) was also *cheaper than the Royal Mail / Parcelforce / See our price comparison here.
---
The benefits of booking your parcel delivery online
Dom of TP&TR has a growing family, and finds it difficult to do regular postal runs between running a household, the school runs and operating her business. At DHL Parcel UK we make booking a parcel delivery easy and cost-effective.
We collect directly from your door or you can drop off at over 3,500 ServicePoints and 50+ DHL Parcel UK depots – saving you money!
Globally trusted courier shipping to over 160 countries worldwide
Online tracking and delivery notifications sent to you and your recipient throught the parcels journey
Contents cover (up to £25 for UK / £50 for International shipping)
''My DHL rewards'' - exclusive to our customers
Integrated with over 10 ecommerce platforms to make sending parcels even easier
Offer your customers easy returns with our ''reverse order'' functionality
We offer pre 9am, 12pm and Saturday delivery options for those time sensitive and urgent parcel deliveries.
For peace of mind, you can you can add up to £1000 extended contents cover if the value of your parcel is higher than the standard cover we offer. This was extremely important for Dom at TP&TR as many of her parcels contained bulk orders to her customers.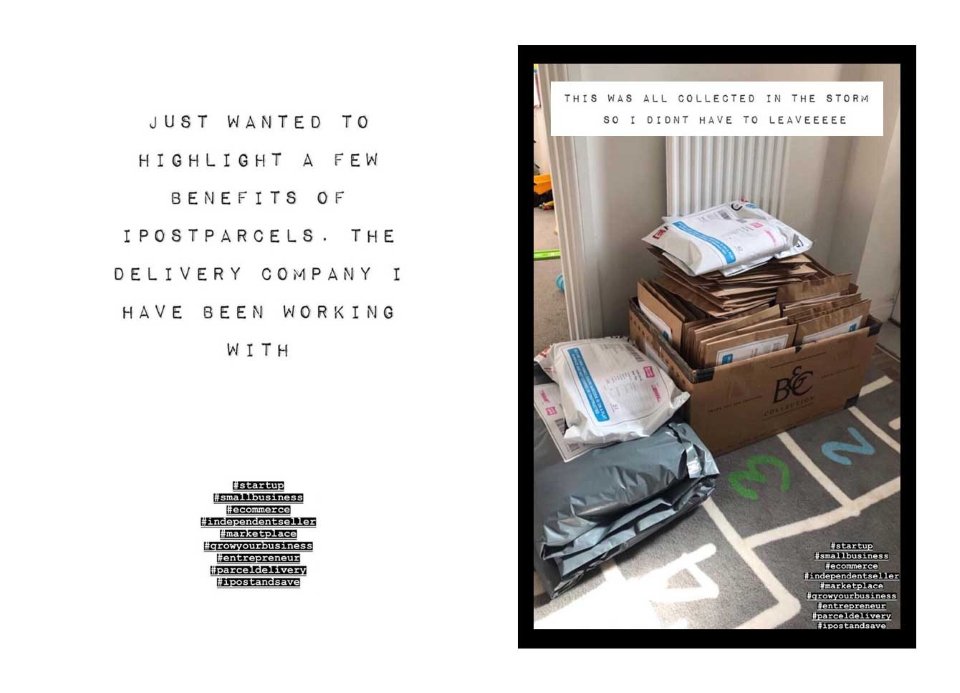 ---
Switching providers and saving money on your parcel delivery costs
"Over the last four weeks I have been working with @DHL Parcel. The idea was to test and prove that their collection and delivery service was beneficial for small business such as myself. And it was. The whole process from start to finish is so straight forward. You pick the date you would like the collection, go through the quote process, pay, print your label, stick it on and bobs your uncle. The other perk I enjoyed was receiving a text or email when you received your package. The last four weeks have definitely been made easier because of this service. I always stress about not being about to make it to the post office on time and thanks to @DHL Parcel that's one worry I know longer have to think about." – Dominque Crick, owner of The Pelican & The Rose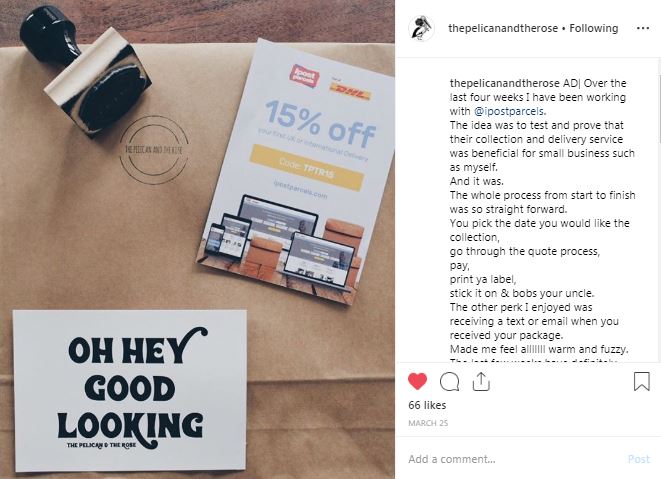 Here at DHL Parcel UK we are always looking for more start-up or small ecommerce businesses to partner with to showcase how we can support with all small business parcel delivery needs. Email us at [email protected] to find out how to get involved.
*Prices compared to Royal Mail Price Finder website and Parcels2Go prices for Parcelforce. Prices based on a parcel weighing maximum of 10kg, with dimensions of 45x45x45. Prices correct at time of publishing on the 19.03.19.